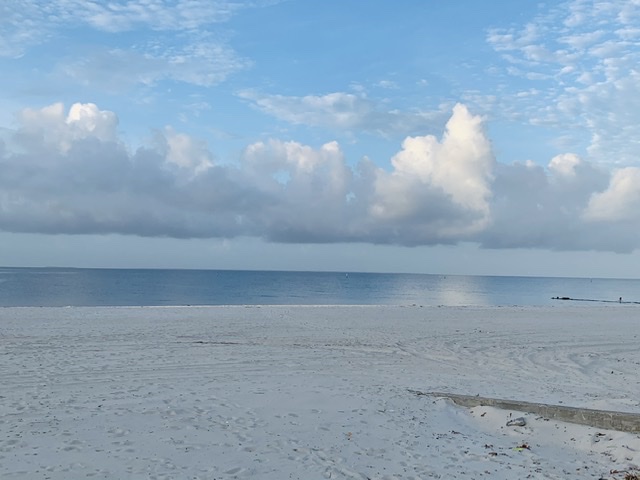 So…normally when I vacation I'm writing a blog every day to let all my followers (all two of you) keep up with my travels. This trip has been different. I have enjoyed just being and soaking it in.
I set up my 'vacation' time last October (when my job puts out the request log) and I made plans at that time to be in Haiti at this time working in the clinic like I did last summer. Well as many of you know, the whole world decided to change around the end of February, and it did not right itself in time for my plans to work out. With the time off me and some friends decided to do a road trip to Gulfport, MS…and here we are.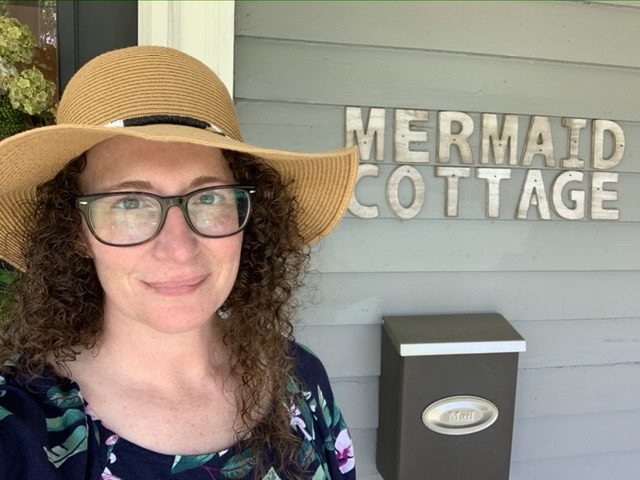 Sunday morning we were up early and on the road by 7:00, a little later than planned, but it worked. I have decided that Missouri is a very large and boring state, it took FOREVER to get out of Dodge (or out of my home state). It's roughly a nine hour drive to Gulfport, and we broke the ride up with a stop at Shaggy's on the Rez in Brandon, MS. On arrival to to our adorable AirBNB, we dropped our bags and walked to the beach (which was two blocks away). Mermaid Cottage is so cozy and fits us just perfect, Goldilocks would have said "It's just right". We grabbed dinner at Waffle House (there is one on every corner down here) and called it a night.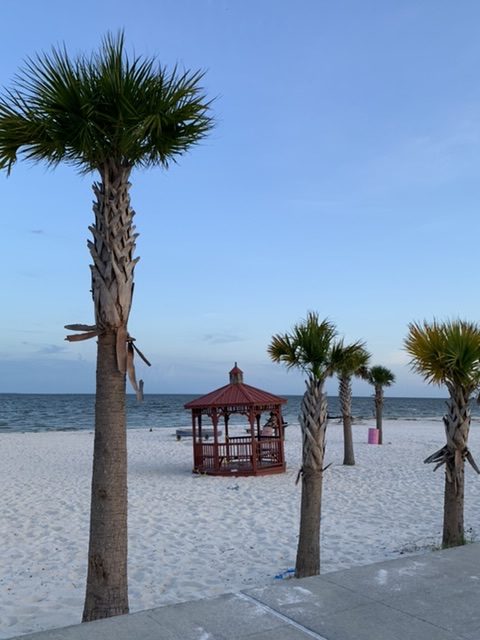 Monday (6/29). Monday was bright and sunny with humidity that makes you feel like you're in a sauna. I am trying to be a "healthier" me, and to not get out of sync of exercise I crawled out of bed and made myself go for a wogg (walk/jog). Oh my lands a living!! There is no humidity like southern, water front humidity! I'm pretty sure that I became a grease spot on the sidewalk, but the view was AMAZING!
We had a lazy day, one member of our group met up with a high school friend and the rest of us went to the Rusty Pelican, it had carpet on the walls (very interesting menu that was split between American, Mexican, and Vietnamese). Not the best meal I've ever had but not the worst either.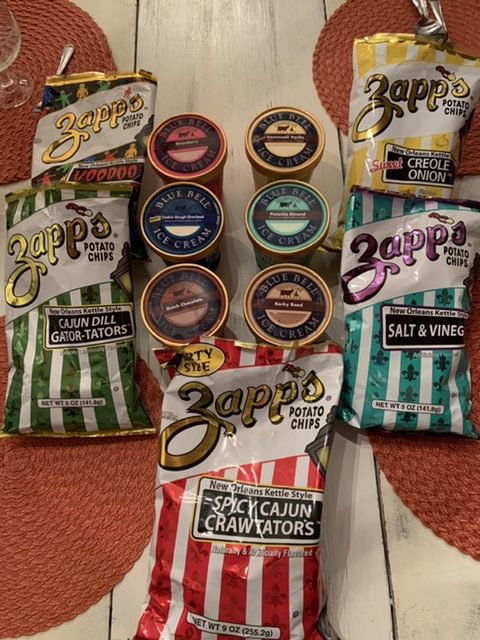 After getting back together, we took a trip down the coast to Biloxi (you apparently DO NOT say the "o" as an "o", it's more of a "u" sound). After souvenir shopping and checking out a light house, we stopped in at Slap Yo Mamma's BBQ (the seafood place had a 45 minute wait). This BBQ was so good. Leaving the beach behind us, we headed inland to say hi to my cousin and his family (thankfully my friends were ok with making the pit stop). It was nice to kick back and relax and see some familiar faces. On the way back we detoured to Bay Saint Louis, it is another cute little town on the Gulf Coast. We rounded out the night with some southern items for our "dinner" (Zapp's chips and Blue Bell ice cream).
Tuesday (6/30). Up for another run along the beach, actually today it was more walking than anything but at least I was moving! I still got my sweat on, but not sure if that was from movement or my body was physically crying out of every pore due to the humidity haze that was hanging out along the coast. Have I mentioned that it was humid here? LOL
After getting cleaned up we headed out to brunch at a cute little coffee shop, Boozer's Brew. I love the fact that there are no crowds here, I realize when activities are happening there may be larger crowds, but honestly at this time it is very easy to social distance and be in compliance with new regulations that are out and about. The traffic is low (we can cross the road to the beach without difficulty); and there are not a ton of people milling around and in my personal space (I social distanced before it was cool).
We drove down the coast to Ocean Springs, a very cute little town with a lot of little boutique stores. I went in search of pralines, the others just went looking. Found what I was looking for at the Candy Cottage, and then walked around checking things out.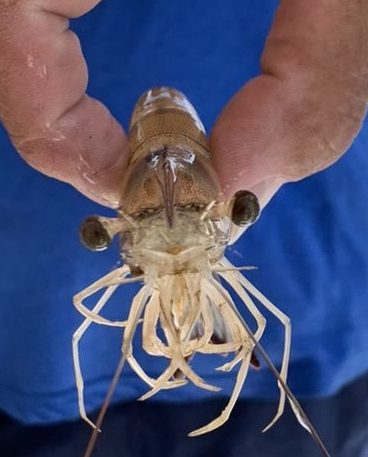 We wanted to get out on the water, so we decided to take a Shrimp Tour, ended up not being exactly what we thought (we wanted open waters and dolphins, we got a shrimping education and to see blue crabs). We meet the boat on the dock at 1:00 pm, the hottest part of the day. I grabbed my large floppy hat and a jacket, slathered on some seventy proof sunblock, and joined my friends. We did the Biloxi Shrimp Trip, our guide was fun and informative and I did learn a lot. We only had about fifteen people total on the boat, so we had the top deck to ourselves and two other people. Made social distancing nice, we got the ocean breeze and a birds eye view of the demonstrations.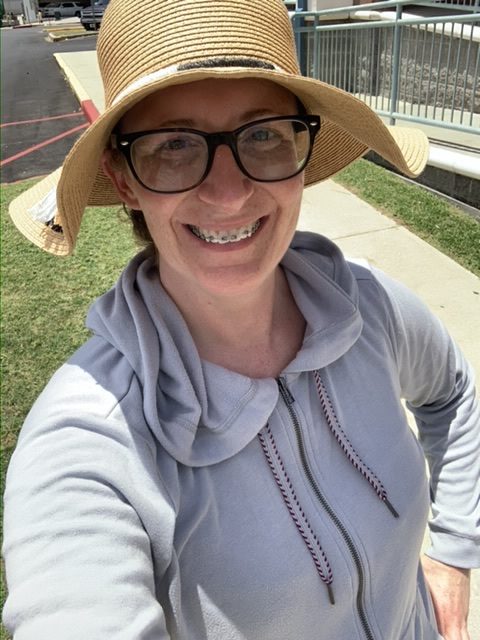 Being "Casper Girl", with nice Irish skin that burns within minutes…I took extra precautions to go for a boat ride. LOL. I not only wanted to enjoy the boat ride, but also the rest of the trip and to be comfortable coming home. :)
After our foray into education of the local area, we headed back to Gulfport and dinner at Half Shell Oyster House. WOW!! The food was amazing, I was able to taste shrimp and grits (recommend getting this if you have the chance). After getting our fill, we headed back to the house for some downtime.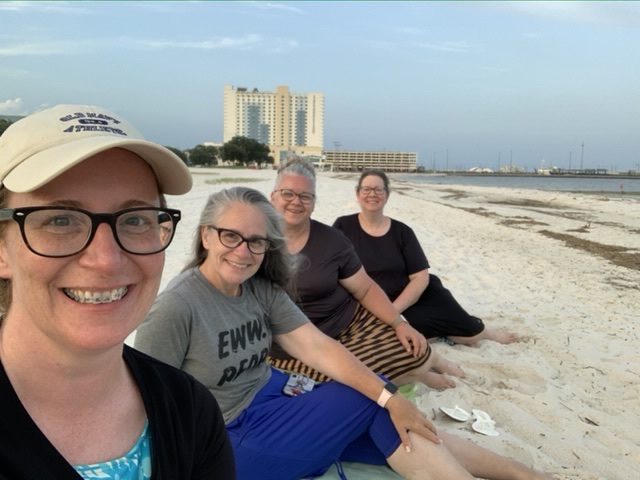 After catching our second wave, we all went down to the beach to soak in the sun, the waves, and just enjoy the sand. I went looking for shells, collected a few and then was scared by one that had legs that came flying out toward my face when I was trying to "hear the ocean". LOL! I had already collected one, I quickly went back to my towel and brought that beautiful shell back to the water edge…and it quickly started walking away. <eeek!>. It was a perfect ending to the day to watch the sun set and just talk.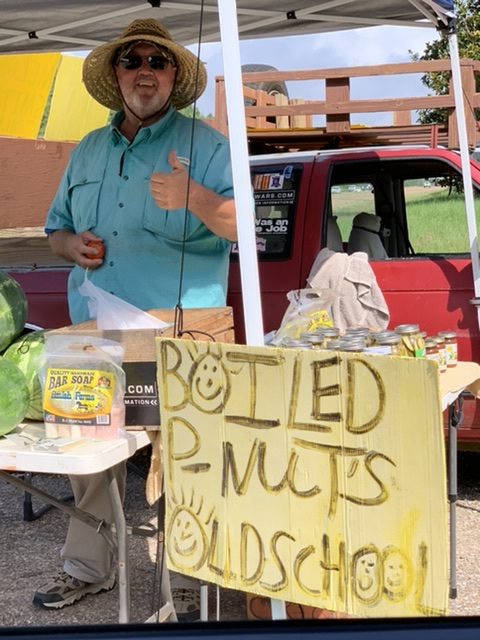 Wednesday (7/1). Travel day! We headed out after stopping back by the Boozer Cafe and started our journey home. Found some boiled peanuts from the "King of Boiled Peanuts" (per the seller) on the side of Interstate 55. Made a few gas and pit-stops along the way and arrived home around 7:00 pm. It was a long day on the road, but we were blessed with traveling mercies the whole time.
This trip was not exactly what I had in mind in October when I placed my time off request on the calendar, but it ended up being exactly what I needed at this point in time. I am blessed with friends that support and guide me, and who know how to have fun and laugh. Thoroughly enjoyed my time away, but also very glad to be sitting here with my mongrels (the cats) today. Until I adventure again…
ERM