Hello my people, all two of you.  It has been a crazy month.  One month ago today (on March 14) I met my "Breakfast Club" for a brunch, not knowing that that was the last time I would have contact with individuals not associated with work.  I'm still going to work, I'm still going grocery shopping, I'm still getting gas and my oil changed.  Why?  Because I am single & essential (I work as a nurse).
Before going further, I want to iterate that the views of this blog are strictly my own. How I feel and the frustration or elation of working as an 'essential' employee. Everyone has a different experience, this is mine.
What does it mean being a nurse at this time, and working in the emergency room.  Yes, I had to tag "in the emergency room" onto that because unfortunately not all are equal.  Now don't get all hot and bothered, I am NOT saying that ER is better than any other kind of nurse; what I am saying is that unfortunately at this point in the game (a month in) some nurses are not being able to work because their speciality or their unit has closed down due to the virus that has turned our world upside down, and it is causing a lack of work.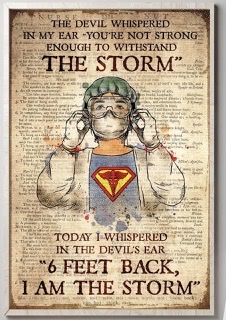 As an ER nurse who has Multiple Scerolsis (MS) I have been assigned to the "clean" patients, at the recommendation of my neurologist. With an auto immune disease, and being 'susceptible', I was changed from COVID care to 'clean' care. I get to work with all the pregnant, soon to be mommas. With the possibility of catching the "VID", "RONA", "the virus", or whatever the person terms it the number of people coming to the ER that are deemed 'clean' has dropped drastically. This means three things: people that normally would drop by for something that can be taken care of at their doctor's office are not coming, there are people that need to come but don't due to fear of the virus, and that those that are showing up to be seen not related to COVID are sick. There are a few that still swing by for kicks and giggles, but most of the people we are seeing (on both sides of the spectrum — clean and COVID) are sick. Some days are crazier than others, but we survive.
Surviving means we wear a mask, 24/7. Which in turn makes it difficult to survive. What? <wide eyes stare with this> You see, when you have a mask on, ALL THE TIME you are continuously breathing the breath you just exhaled. What's in your breath? Carbon Dioxide. Plants thrive on it, so if you were growing a nice flower or a garden in your surgical mask you would have the best green thumb ever…since we are not doing that and we actually need oxygen to be healthy, more often than not I end up with a headache. There are moments when I just have to take it off and breath. I try to go outside on lunch and soak up sun, oxygen, and fresh air but Mother Nature is not one hundred percent cooperating — rain and freezing temps do not agree with a jaunt around the courtyard. Not to mention the fact that we have to actually monitor what we eat now…who wants to smell garlic breath all day after lunch. Bleh!
Second issue with our safety measures. Dehydration. It is recommended that we have the mask on as long as we are in "patient care areas", we can take a side of it off to take a drink then replace it. But, most of the mask we have available are the actual surgical mask (that you see on TV) with the top/bottom ties. Very cumbersome to take on/off, therefore the water consumption has decreased drastically. But with decreased water consumption, it also cuts down on trips to the restroom. LOL…looking for the silver linings.
Working as a single nurse.  It has pros and cons.  Big Pro — I do not have to worry about bringing the virus home to family.  I do not have a husband or children that I have to worry about infecting or getting sick.  My cats do not seem to mind my comings and goings, and do not realize that I leave my shoes in the garage — they tend to lick them which is totally disgusting regardless of virus infected or not.  A Con — not having immediately family; which in turn means I have no one to come home to.  I spent Easter alone because of the travel ban and also because I did not want to take anything home to my family (my brother also has MS and is susceptible). Another Con — I still get to do everything.  I grocery shop, I get gas, I run errands.  I do not have someone that I can send out for these things.  I currently wear a mask while I am out.  Why?  For two reasons really: one to protect myself so I can continue to work and two to protect others from me.  I am not exhibiting symptoms, but people can be carriers and not know it, and the fact that I work in a profession that makes it very likely that I have been exposed I want to do my part to protect those I come into contact with.
Life is eerie now. The stores are empty, everyone stays away from one another, no more jostling down the isles at Wal-Mart, Aldi's is so very empty (which I kinda like, a lot). People are going up in arms and taking a stand about how that if "people don't take this serious then…blah, blah, blah". I am saddened by this.
Are there people dying? Yes. Is it tragic when someone dies? Yes.
Are people dying from other things other than COVID? Yes.
Are vehicle accidents decreased and vehicle deaths decreased since people are staying home? Yes. Will these go back up when people go back to "life"? Yes.
Will people take a stand and yell at you for driving your car and putting yourself and others in danger? NO.
Have these people that are yelling about not washing your hands, and being so vigilant about this virus yelling at people that smoke, do drugs, drink and drive, don't monitor their insulin, don't go to regular check ups, those who harm others through abuse, or do other things that cause harm to themselves or others? NO.
Why? Because there are no talking heads that are causing mass hysteria or putting fear in peoples lives about these things.  The media is not covering the amount of deaths that occur every day from DKA, from drug overdoses, from drunk driving, from vehicle accidents on the freeways/interstates, from preventable heart attacks, from suicide, from abuse, and from cancer.  The statistics are out there, and the information is available…but it's not being streamed into your homes and people are letting these victims die in silence.  But FORBID that a friend or family member, or a friend of a family member, or a friend of a friend three times removed die of COVID.  Let me get on my soapbox and yell at people for not taking this serious.  Disregarding all the other things that happen daily in the world around us.
I am in NOWAY down playing the loss of loved ones from this in anyway, I am just putting it into perspective of life. People lose people all the time and it sucks, regardless of how and when it happens. Trust me, I know.
What are our priorities? Fear? Sitting back and losing all our rights as humans and AMERICANS? Falling to the masses? Saying that we are 'turning to God' and how great it is to refocus ourselves, yet still living in fear?
I have tried so hard to be positive from the beginning. Some days are harder than others, it is tiresome. I had a few days that were bad days. I was letting the anxiety, fear, and constant stress of my job and my new 'life' seep in and take hold. I was letting the onslaught of all the naysayers and Negative Nancy's take up space in my life. But in the end I have held tight to the promises given by God. He truly is the only constant in all of this. No political party, no human being, no official or entity. God has promised a sound mind. In 2 Timothy 1:7 it states, "For God has not given us a spirit of fear, but of power and of love and of a sound mind". A "sound mind" means to be sane or rational; having the ability to "think, reason, and understand for oneself". God has provided us with the ability to reason for ourselves. In Proverbs 16:13 it states, "Commit thy works unto the Lord, and thy thoughts shall be established". If we do our daily routine unto God, and focus on Him, our thoughts will stay clear and focused. We will be able to stay positive. In Palms 19:14 it states, "May the words of my heart be pleasing to you, o Lord", which goes hand in hand with Provers 4:23, "keep your heart with all diligence, for out of it spring the issues of life". Out of our inner most beings, our inner thoughts and feelings, is where our 'life' comes from. To have a good and healthy life, we must keep it positive and focused on the One who actually gives life, and it more abundantly.
This is only the tip of the iceberg, there is so much that is going on and happening.  Much of it the media is covering, everyone contradicts the other, and it is so skewed that you don't know what is right and wrong.  But for me at this point in MY life, I am making a conscious effort and am striving to be positive and to stay focused on what is good and acceptable.  When I picked the phrase "It is Well" as my focus this year, I did not realize that it would be such a struggle to be as the Shunammite Woman and stand strong in the face of adversity, loss, and stress and continue to say "It is well".  But here we are.
My prayer for each of you is to stay strong. For love, peace, and hope to engulf you daily. We will get through this, some differently than others…but in the end it will be as it should be, however that is. We may not like it, we may struggle with it, but we will get through it.
Love and prayers,
ERM