Today is the day!!  My first clinic to be held here in Haiti.  We let a local orphanage (a different one than Trudy's Kids) know we would be open today, and they were allowed to bring 40 people to be seen.  We arrived early to get the 'pharmacy' inventoried and get set up, the patients were to arrive at 9:00 am.  Of course they live on Haitian time (a time frame that my dad would get along well with), so they arrived around 9:30-ish.  LOL.  
It had rained last night, well actually for the past two nights, but the road had not had enough time to dry out prior to our arrival. When I say 'road' don't envision a nice paved highway that leads to the top of the hill…think more along the lines of what you would do off roading on…which is kinda what we did. LOL!! We were going all over the place, but Bro Brian kept us from going into any rocks and we made it to the top!! YAY!! Many of the 'roads', and I do use that term loosely, are dirt and rocks that jostle you from side to side…but they get you to where you're going and that's what is important.
We had a group of people with a variety of ailments, though I'm pretty sure the one month old did not have the flu. I could have been off on my assessment of the situation, but she seemed non-symptomatic to me. Then there were some that did not mention what was obvious (open wounds and sores on their legs). Trying to decide how much OTC items will be needed to heal what you see, combating the lack of clean water and access to daily water was a little disconcerting. Then there were the ones that were sick but with the limited resources and no access to blood work/labs, or easily obtained xrays you were stumped as to what it was and how to handle it. Though it's frustrating in the states that people abuse the ER, and they come when a urgent care or doctors office could have taken care of the situation…at least the option of healthcare is there. Haiti has very little healthcare, and it definitely is not setup as the states.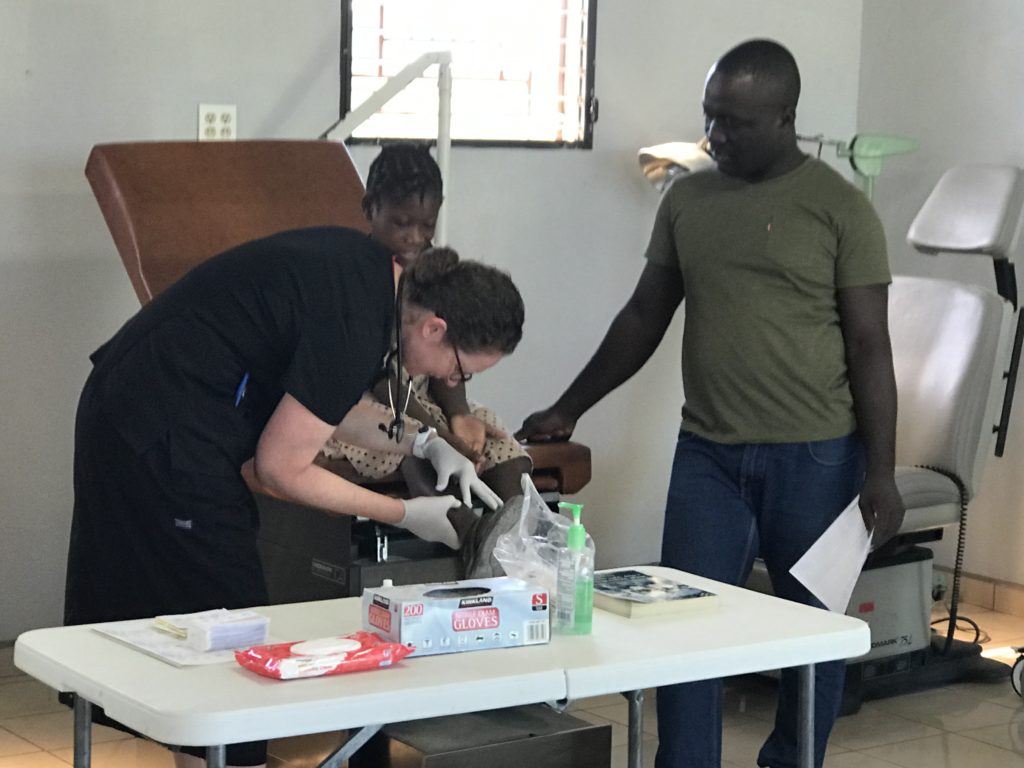 On the way to clinic today I saw something that will forever be imprinted in my mind. There was a person in the road that had died. I've dealt with death, but always in a controlled setting — either an ambulance or an ER. I've seen individuals after the TOD was called and helped prepare the bodies for family to come to the room and for the mortician to come. To see the disregard for life was very sobering. Sometimes this is a statement made when a thief has been caught, and sometimes it's a pedestrian that has been hit. The only thing out of my mouth was "oh, dear God" and it was sincerely a cry for everything that was represented in that instant of time.
After the clinic we came home to lunch made by Elsie, a true Haitian meal of beans, rice, pikliz, and chicken. Oh my!! Very tasty!! Of course I love food, but it was nice to have a 'true' traditional meal.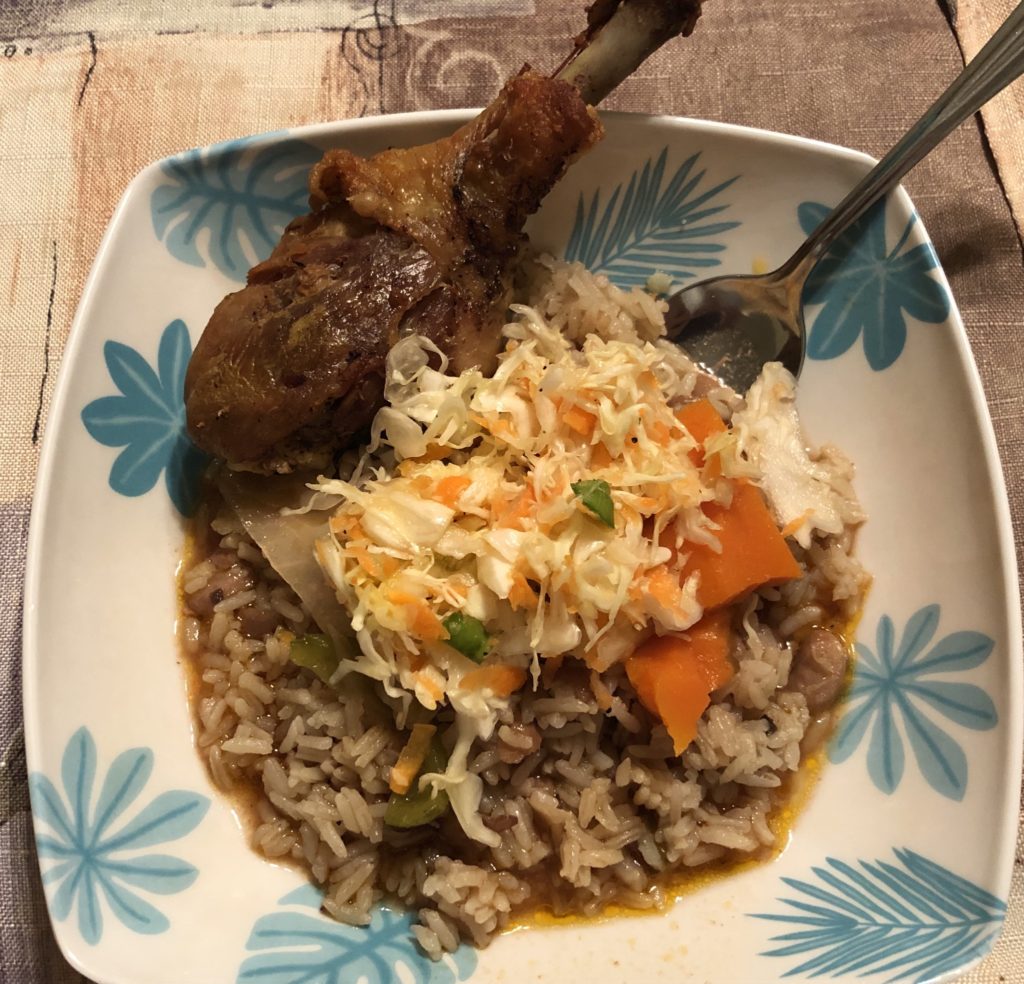 After a short siesta we headed out to the fishing village. This is a group of people the Brian's reached out to in a village of adobe huts and bare essentials. As the vehicle came to a stop the children came running in droves calling "Papa Brian". They sang a song that states "Jesus knows where I am, he won't leave me begging for charity", <or close to that>, as bags of chips were passed out. We then went down to the waters edge, being clasped on all sides (literally — right, left, front, back) by little hands that are just seeking to be touched. We played on the beech for a bit, then headed back into town and dinner.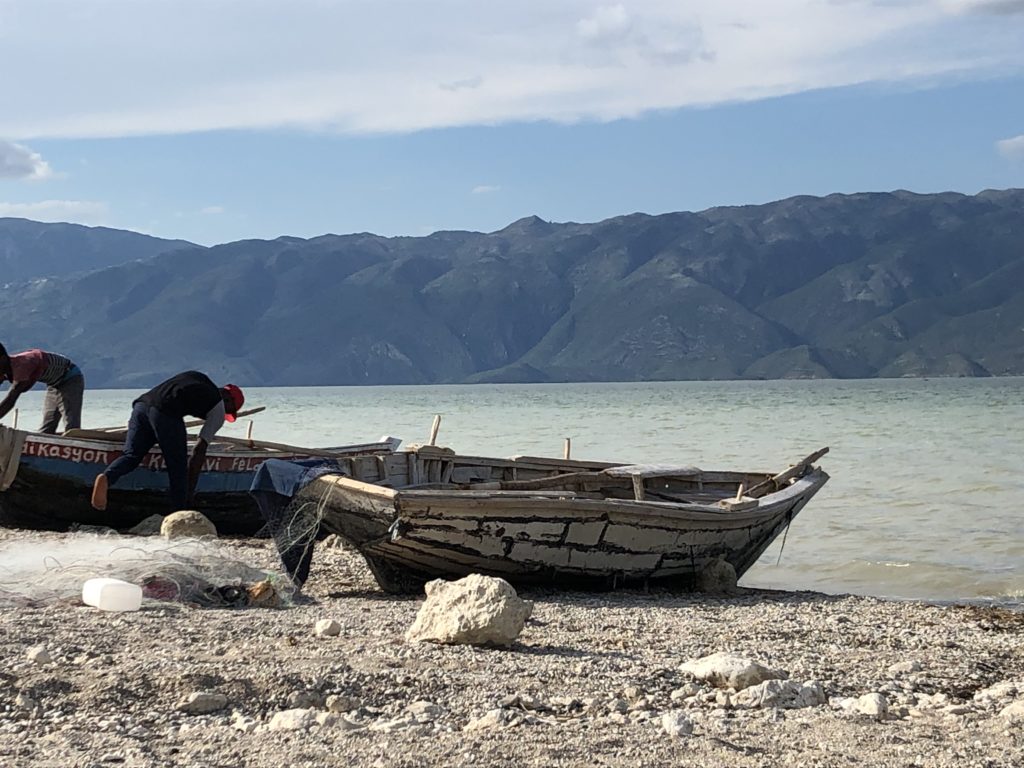 So much experience is packed into a day. I'm trying to absorb it all and file it away. Gaining insight and knowledge from the Brian's, just in conversation and observing their life. To trying to show my appreciation for all the people do for us, they are always helpful and wanting to do things. To the children's reactions and faces…they know they are loved. My heart is full!!
Until tomorrow…ERM